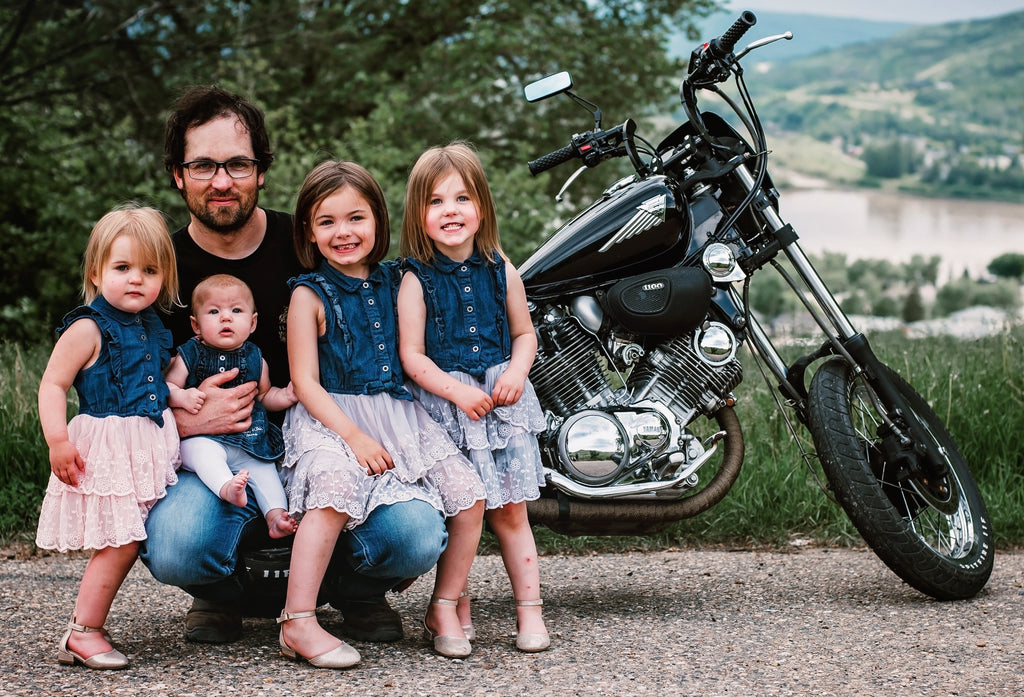 Our Story
In 2013, Tyler and Lindsey were both employed full time in the oilfield and construction industries running heavy equipment throughout Alberta and Saskatchewan, and living full time in their 42 foot fifth wheel. It was after completing a job in Whitecourt that Lindsey suggested they take a little break and go up to Peace River to visit friends as Peace River was her hometown. While there, the Carmon Creek projected fired up and they were both employed to help build pads and access roads, and thus they stayed. However early into 2014, oil prices fell and the industry went into a recession, with Lindsey expecting their first child, they decided to continue living in the RV and ride out the economic storm. By 2016, the recession had still not recovered and with now two daughters to support and a wife who refused to move out of the RV, in part because Tyler had installed a cozy little wood stove in it, Tyler began to brainstorm ways to diversify their income streams.
Though Tyler's construction work always managed to pay the bills, it didn't offer the security they were looking for, and it also didn't allow for much time with the kids. Unbeknown to Lindsey, Tyler had recently started vaping and noticed there was a significant demand for vaping products but the nearest vape shops, other than a small one in Manning, were in Grande Prairie almost 200kms away. He was also frustrated that his online orders often wouldn't show up in time before he had to head back to work in camp and so he was having to detour hours of the way in order to stock up. So Tyler had a the crazy idea to start a vaping business out of the back of the 5th wheel in order to keep himself stocked up and to make some extra cash while considering the potential of growing it into an online and Brick & Mortar
Vape shop. Lindsey initially was not on board as she knew that with him working away from home the majority of the time, most of it would be left up to her to run and with two kids under the age of two, her plate was pretty full. But they decided to give it a whirl anyway. Tyler named his new business venture Freedom Fog because to him vaping meant the freedom for people to get their nicotine without inhaling tobacco smoke and the new business would mean, for his family, the freedom from depending on the oilfield and construction industries. The intent was to serve vapers in Peace River and surrounding communities like Grimshaw, Manning, Falher, Fairview, and maybe even capture some customers further away in place like Grande Prairie, Valleyview, Fox Creek, White Court, Slave Lake, High Level, High Prairie, Slave Lake and Athabasca Via the online store.
 The initial response was extremely positive and they could barely keep up with the demand. Who would have thought that folks would come buy their vape gear from someone out of a camper? By 2018, Tyler finally managed to convince Lindsey to move out of the RV and into a house, and with then three small daughters, they set the store up in their garage. As they both continued to work in the construction industry with a local highway expansion project, they served their customers primarily in the evenings and even late into the night at times. Tyler would never turn away a customer no matter what time or day it was, and with traffic now reaching some days over 20 customers in a day, the traffic and parking began to annoy their neighbours and so it was finally time to expand their little business into the brick and mortar store Tyler had envisioned years before. This presented them with the small challenge of juggling childcare with a full time business, however they found themselves the perfect little space in an old lawyers office above Subway. There they set up a little room for the kids to hang out in while Lindsey could continue to run the day to day operation of the shop while tending to the kids.
It took about a month, a little bit of sweat, and a whole lot of elbow grease, but they completely renovated the space and turned it into the vape shop it is today. Thankfully Tyler had his previous career as a flooring installer to help transform the old brown and green carpeted space into a clean and modern area, where they have continued to expand and grow the business. Peace River finally had a real brick and mortar vape shop! They have continued to expand the products and lines they offer to meet the demands of their customers, and have always strived to do so while keeping their pricing inline with other online stores and big city shops. They employ two fabulous part time ladies who help keep the shop running smoothly, which allows Tyler to continue running heavy equipment in the area, and Lindsey the freedom to cart kids to school, appointments, and extra curricular activities.
They are so proud to have this business and so thankful to their loyal customers who have supported them right from the beginning. Lindsey especially enjoys getting to know their customers by name and on a personal level while enjoying the FREEDOM that being self employed has given her to work while also raising their now four young daughters!
---